The directions are as follows:
Nicole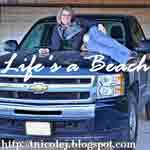 Nominate 15 bloggers for this award:
Well..... How about if you want to play along, go for it! I would love to hear about all of you. I just don't want to put anyone on the spot!
State 7 things about yourself:
1. I am an Amazon, I am 5'11" and bigger than most guys.
2. I love all things country. Music, living, clothes, trucks.
3. I wish I could go live off the grid somewhere up in the hills. No people just me and my family.
4. I don't like to shop. If I could just buy everything at Costco I would be happy.
5. I took 2 years of college, but never got my business administration degree. I currently work as a Design Engineer, side by side with guys that have gone to at least 4 years of college.
6. I have been married to my best friend Chris, for almost 6 years. We met when we were in high school and then were reintroduced at 23.
7. I suck at sports. Everyone always thought that because of my height and size that I played some sort of sport, but I am terribly uncoordinated and unmotivated. In middle school the football coach tried to recruit me to play since I was bigger than all the boys, but my dad wouldn't let me.
Wow, that was a random assortment of facts! haha
What are 7 things I don't know about you?