Day 5: Sunday May 5th Publicly profess your love to a fellow blogger.
Haha, Definitely
Nicole
she was my first bloggy friend. I had created my blog but had only done a few posts. I was blog stalking some blogs but I don't think I had ever commented, or if I had, no one had written me back. Anyway I stumbled across Nicole's blog and I was reading old posts of hers, you know trying to get to know her without even talking to her. haha. I came across a picture of her Prince Charming and all I could think was how he looked like Garth Brooks from the early 90s. So I bit the bullet and commented. I didn't really know how comments worked then and I figured she would probably never see it( I didn't have mine set up for comments to go to my email) but to my surprise she wrote me back in a matter of minutes!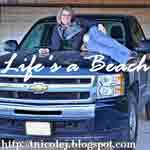 Nicole is awesome about always replying to a blog comment! She also comments on every single blog post I write! We talk on email almost everyday. We even text back and forth on holidays. When I started blogging I had no clue that you could actually make real friends on here. Oh and Nicole doesn't just blog at
Life's a Beach
but she also has other blogs.
Tuesdays at the shack
a blog about Tuesday night dinners at the shack,
Cheese in my Macaroni
Nicole's cooking and restaurant review blog, and
I like it on the Table
another cooking blog that she co-writes on!
Nicole is one busy girl! So what are you waiting for go check her out. Give her some love!